We are a Veteran owned, UK based company which provides data driven innovation services for the International Defence and Security Market.
We started out as '3 men in sheds'  in 2014 and have grown an international  business servicing  customers in the UK, US Europe and Middle East.
We provide a range of products and services that offer 'moneyball' expertise, original insight and data-based evidence that provides our frontline customers with competitive advantage.
We are proud to based in Porton Science Park, Salisbury, Wiltshire.
Values
Dedicated to the Front-Line Operator
We always design our practical solutions with the Operator in mind and deliver fast and flexibly to the Front-Line.
Delivery Excellence
We deliver with style, pace and excellence to see things through to the end. We combine knowledge, skill and constant learning to provide enhanced value to our network and customers.
Leaping into Bigger Ponds
We determinedly seek relationships and ideas in bigger ponds. We strive to keep advancing.
Super People and Teams
We work inclusively and thrive on one another's superpowers because we know that we achieve more together. The Cervus superpower is our likeminded diversity that drives answers that others haven't thought of yet.
One Trusted Network
We seek improvement and different ways of problem solving by working together in a trusting network. We always keep our promises and are ideal partners .
Alan Roan
Managing Director
Al Roan is the Managing Director responsible for the strategy and day to day running of Cervus. He is also in charge of Business Development and Sales.
Prior to co-founding Cervus, he has worked for a number of international defence companies and for the UK's Defence Science and Technology Laboratory (Dstl). He also served as an Infantry Officer during the 'Tony Blair Years' , serving on operational tours in; Northern Ireland, Bosnia, East Timor, Iraq and Afghanistan.
As a result of these experiences, an interest in defence innovation was ignited. Today he passionate about helping others create and deliver practical solutions for the front-line
Al is a Trustee of the Common Mission Project, enjoys cycling, rugby and wild swimming. He also is happy to share his strong views on the future of conservation and sustainable agriculture.
Paddy Little
Technical Director
Paddy Little is the Technical Director responsible for product strategy, product road mapping, and horizon scanning to support this. He is also heavily engaged in delivery of specific Cervus technical projects.​
Prior to co-founding Cervus, he worked for a large international  training and simulation company specialising in the defence sector, and prior to that spent a brief period advising on Security Sector Reform in West Africa. He also served as an Infantry Officer for 17 years, serving on operational tours in Northern Ireland, Bosnia and Afghanistan, a training and advisory tour to South Africa and was fortunate enough to attend the Joint Service Command and Staff College and to complete an MBA.
As a result of these experiences, Paddy is passionate about exploring individual and team performance, and in finding solutions for those on the front-line to access exploitable performance insights.
Paddy is a keen cyclist, member of a flourishing local club, and still strongly drawn to riding in the high mountains of Europe. He is also now owned by a large labradoodle and spends contented hours tending a village allotment with his even more enthusiastic family.​
Chris Baddeley
Operations Director
Chris Baddeley is the Operations Director responsible for the Finance and Operations of Cervus.
Prior to co-founding Cervus, he worked for a large defence simulation company, when he was first involved in Training Support before switching the Experimentation and Research support.  He spent the early part of his professional life serving as an Infantry Officer which included operational tours in; Iraq, Northern Ireland and Afghanistan.  ​
Chris's interest in military training, sport and, performance data, is what drives him to help design, build and deliver better access to the information which can aid and better people's individual and collective performance.
Chris enjoys mountain and road biking and is a keen runner.  He has an interest in architecture, design, building and renovation and can occasionally be seen behind the wheel of a tractor helping on the family farm.
Chris Rolfs
Chief Technology Officer
Chris Rolfs is the Chief Technology Officer within the company.  He manages the Cervus IT systems, technical coherence within the projects and is an advocate of the Year In Industry Scheme for bringing students into the company.
After completing his degree in Maths, Chris worked for a large defence company where he delivered several large training and experimentation projects using Live, Virtual and Constructive Simulation systems.  These required the development of innovative systems to enable personnel to deliver in austere environments.
He has always had a passion for maths and how it can be applied to real life situations.  Cervus offered the opportunity to make a difference in how data analytics can be applied to military operations and the unique challenges this involves.
Outside of work Chris enjoys DIY projects, the occasional bit of sport and cooking (especially on BBQ/Firepit) for friends and family.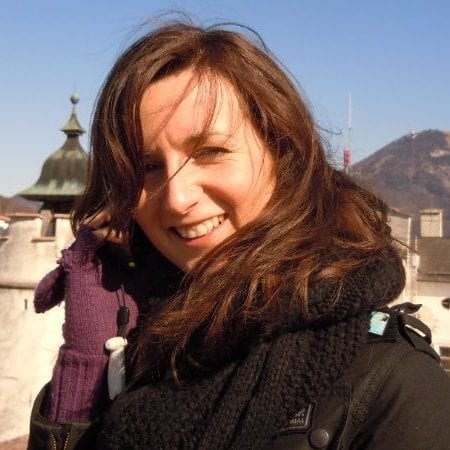 Sarah Sims
Programme Manager
Sarah is the Programme Manager within the Operations Department responsible for resourcing and project monitoring. She is also ensuring the business works within it's quality management processes and advises on human resource matters.
Before joining Cervus in 2019, Sarah was a Programme Manager at Bristol City Council responsible for developing a city-wide energy investment programme to support the city's carbon neutrality ambitions. Prior to this, she specialised as a project manager delivering award winning energy efficiency retrofit projects from the public and private sectors.
Sarah was drawn to Cervus by the passionate ambitions of the Directors, the opportunity to contribute to the growth of a small, exciting business and the challenge of working in a completely new sector.
Outside of work, Sarah enjoys the sun and snow and is currently striving to get better at running, tennis and cooking.
Bram Vandermeersch
Senior Software Engineer
Bram Vandermeersch is the senior software and systems engineer. His responsibility is to ensure that the systems that are delivered are robust and meet the agreed specification and customer needs.
He has 10 years' experience in the military synthetic training domain, specialising in distributed simulation approaches.  He has developed simulation solutions which underpin the training delivery capability for high profile programmes delivering essential training.  Before returning to defence he has spent five years in the air traffic management domain where was driving algorithms design, data analytics and associated infrastructure.
Bram joined Cervus because he wanted to be part of the story they are writing, and he feels that his previous experience will contribute to successfully delivering the next level of training analytics.
When he's not working, he has a passion for technology, is a keen cook and likes keeping active by skiing and cycling.
Marcus Messer
Software Engineer
Marcus Messer is a Software Engineer, who plays a key role in internal and client software development.
Prior to starting at Cervus for his placement year, he has been working towards his MSci Computer Science (Hons) from Royal Holloway. He has studied software engineering best practices, Graph Theory and many other modules that have helped him strive at Cervus.
While researching Cervus during his application, he found the work that Cervus is doing to be interesting, especially the work done with aerial support services.
Marcus enjoys Fencing, Climbing and Archery. He also has a passion for education and attends Summer Camp in the US each year.
Tom Hurford
Software Engineer
Tom Hurford is a Software Engineer, who works with both internal and client software development.
Having just completed his A-Levels, he is taking a placement year with Cervus before heading to university to study Computer Science, MSci. Having completed A-Level Computer Science, and Further Maths, he has studied Algorithm Design and Dataset Analysis.
While studying A-levels he completed a project based on data analysis which drew him into Computer Science and Cervus' work with large datasets interested him.
Tom enjoys climbing and hiking and participated in a scientific expedition to the Indian Himalaya in the Summer of 2019.
Ed Knight
Junior Data Engineer
Ed Knight is a Data Engineer within the company. This role involves transforming large datasets into meaningful outputs.
He graduated from Cardiff University with a first-class degree in Mathematics, Operational Research and Statistics in 2019. Part of the degree involved a year in industry where he was an Assistant Operational Analyst for the Experimentation team within the Land Warfare Centre. After graduating he held a position of Platform Systems Graduate at Dstl.
Ed was drawn to Cervus as the company is full of like-minded, driven people. He relishes the opportunity to explore how data analytics can be used within the defence industry.
Outside of work Ed enjoys rock climbing, exploring outdoors and cooking. He is a keen football fan and has an interest in how data analytics can be used to predict sporting outcomes.
Mark Whitehouse
Head of Sales and Marketing
Mark Whitehouse is Cervus' Head of Sales and Markerting, responsible for Business Development, Branding and Bid Work for the company. He is also heavily involved in the development of the high-level analytics approach and for fusing data sources into meaningful and usable outputs for front-line users.
A recent service-leaver, with nearly 17 years' experience in the Infantry, operationally experienced in Iraq and Afghanistan, with world-wide Joint Force experience and extensive contribution to Dismounted Close Combat capability development and acquisition.
Mark is driven to ensure that front-line operators are given the best tools they can to meet the incomparable demands of their roles and wants to find ways to speed up and enhance the decision making process for Senior Commanders and Bureaucrats alike.
Mark is Junior Chair at Andover Hockey Club, where he coaches (U12 and U14), plays and umpires and is at his most serene doing anything outdoors, with a special place in his heart for the mountains (walking, climbing or cycling in them).
Amanda Coleman
Chief Scientific Officer
Amanda Coleman is the Chief Scientific Officer for Cervus with responsibility for establishing and executing Cervus Scientific Strategy, establishing relationships with academia, businesses and other organisations, and assuring Cervus' scientific outputs
Prior to joining Cervus, Amanda worked for QinetiQ, leading their consulting and advisory capabilities and developing their International business and previously has over 20 years working for the MoD and Dstl, primarily leading research and analysis for concept and force development.
Amanda enjoys working in a dynamic and creative environment where there is freedom to develop innovative solutions, engage with the end-user and challenge the status quo.  She is passionate about breaking down barriers and overcoming obstacles to achieve excellent outcomes for the front line.
Amanda enjoys running and yoga; and when she is not exercising she enjoys crochet.  She is also a member of a church choir and sings regularly at services.
Phil Craigie
Principal Analyst (Lethality)
Phil Craigie is the Principal Analyst (Lethality), working with the end user to develop new products to better capture and analyse training data to enhance combat performance.
After a successful career in the Royal Marines, operating around the globe and in numerous operational environments, Phil worked for 4 years delivering soldier system capability to the British military, specialising in training design and product development through rigorous test and evaluation.
Phil is drawn to Cervus' passion for providing novel solutions to difficult problems, especially in the training sector. Their use of technology to enhance training output and provide data driven performance indicators will ensure the soldier is prepared for the modern battlefield.
Phil loves the outdoors, be it walking, wild camping or gardening. A mad keen telemarker, taking part in the British Telemark Championships for the last 5 years he is always desperate to 'free the heel and ski for real'!